STH Industrie, based in Etupes in the French region Bourgogne-Franche-Comté, is a company specialized in air conditioning engineering.
With its 25 years of experience in the service in this industry, the company is active in all sectors: automotive, chemical, food processing, aeronautics, metallurgy and more.
We met Aurélien Barbier – project manager and responsible for the design office – during a training course at AXXAIR. He was so kind as to answer a few questions that we had and wanted to share with you in this article.


STH Industrie: from industrial tube processing over maintenance to air purification

Founded in 1987 and acquired in 2007, the company is operating in 3 major fields.
One of these fields of activity is industrial tube processing, which has also been the company's flagship since its foundation in 1987. STH's expertise allows for the transport of any type of fluid: fuels, special gases, compressed air, oil, water etc. The tube engineers are qualified for high pressure gas welding with TIG, steel, carbon and 100% stainless steel, guaranteeing impeccable quality.
Moreover, the company is also a player in the field of air purification, all types of dust removal, oil mist treatment, fume extraction, air filtration, treatment of atmospheric pollutants, etc. The engineers are Chemistry level 1 and 2 certified.
Last but not least, STH Industrie is active in the field of maintenance. This entails the installation of ventilation and sanitary facilities as well as fluid networks.
From the individual design to the final installation by way of the design office, STH Industrie accompanies its customers from A to Z. Its in-house design office carries out the design, dimensioning and fabrication of the parts.
STH Industrie's philosophy?
The study of processes in order to analyze the problems of its customers and recommend solutions with an optimal output at the best costs.
First Steps towards Orbital Technology
Usually, STH Industrie carried out its welds with manual welding machines on all of its customers' sites.
Recently, a large construction site accelerated the decision to switch to orbital solutions. Indeed, this fire extinguishing worksite concerns buildings storing explosive and flammable chemical products and therefore requires a perfect welding quality within very short time frames. As the installation is subject to tests, it will be tested at the end of the project by being put under pressure and filled with foam. The welds must therefore be waterproof and of impeccable quality. According to STH Industrie, as the construction site was on a tight schedule, the time had come to invest in orbital solutions in order to bring a real added value to STH's service for its customers.
Being accustomed to working with the company ID Soudage – our distribution partner in the Franche-Comté region – for their manual welding machines, STH Industrie agreed to attend a demonstration of our orbital machines on their premises, led by our sales team and the experts from ID Soudage.
"After only half the demonstration, we were already convinced and decided to bet on quality!"
The result: considerable time savings and process automation. It was at this point that the choice of opting for orbital solutions was a real added value for STH Industrie.
STH Industrie has therefore made a commitment and put its trust in AXXAIR by investing in orbital technology. They acquired two orbital cutting machines (CC172 and CC322) plus orbital welding equipment: a SAXX-200 welding power supply, a SATF115-NDHX closed welding head as well as a SX322 prefabrication machine.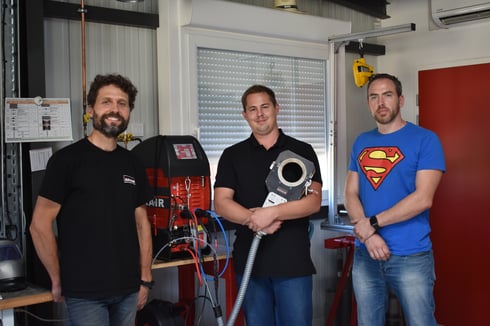 Orbital welding: operating the machines and training at AXXAIR
We were eager to hear Mr. Barbier's point of view as well as that of the company's welder – Michaël – upon the first use of our orbital machines. We spoke to them just after their training at AXXAIR and "intuitive" was the first word they used. They found the machines easier to use than they had expected before coming to the training and thought that the software integrated into the welding power supply was very extensive.
"The training is very important and useful; it allows us to shine light on parameters and acquire techniques that we would certainly not have been able to develop on our own. It remains indispensable for both the mechanical assembly and the use of the software, as well as for the exchange of experience with the instructor."
The Savoir-faire "Made in France", the quality and sturdiness of the machines and the fact that they are backed by a small to medium-sized business are additional arguments for STH Industrie to lay their trust in AXXAIR. As far as the expectations linked to this acquisition are concerned, the company hopes to be able to achieve a significant welding quality. Beyond the quality of the welds, the company seeks flexibility: the possibility for example for a welder to be able to launch a weld and make a new cut during this time. This saves a considerable amount of time in the line of production.
"Some previous projects could have been accelerated thanks to these machines, so there is no doubt about them being used frequently!"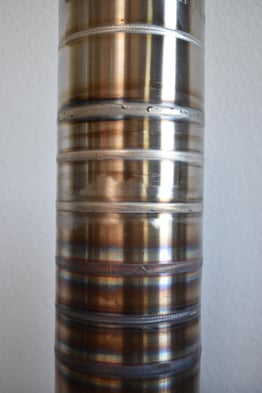 During their training, the team of STH Industrie was able to realize the
impact of the inert gas by carrying out tests and samples.

AXXAIR machines: feedback after 1 month of operation!
And after the training?
We were in touch with Aurélien Barbier again one month after the launch of the construction site and therewith the first use of the machines. We wanted to get his opinion and that of the whole team on their usage.
The fire extinguishing site was therefore initiated during the month of September. STH had received the AXXAIR equipment the day after the training, which allowed the team to carry out a few test samples and set up the first programs before starting on site.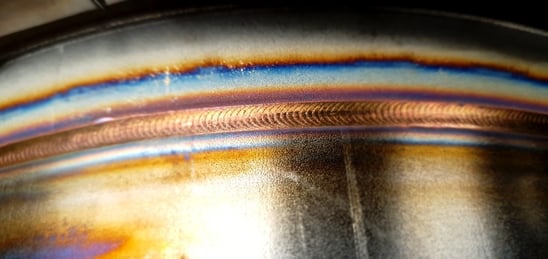 First settings on DN250 - 273.0 x 2.0mm (10,7" x 0.08") - Stainless steel 304L - R/S - Tube to flange assembly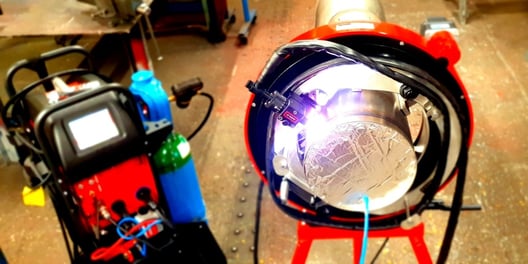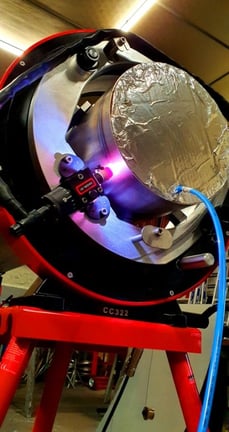 The work is carried out on stainless steel 304L with diameters ranging from 76.1 mm (3") to 273.0 mm (10.7").
In total, it was a construction site with a little over 2.5 km (1.55 miles) of tubes to be installed, all diameters combined. Michaël – a tube welder who had been trained in the use of AXXAIR machines – installed the equipment right away. The installation was quick and easy thanks to the tripods and a cart delivered together with the equipment.
"The installation was just as quick as the installation of a manual welding machine would have been."
The first welds were made on tubes with 273.0 mm (10.7") in diameter. Any unevenness, as is often the case with tubes with this type of diameter, was successfully dealt with by the clamping jaws of the SX322. In addition, the profile tracking as an additional step improves the handling of possible deformations.
Result of the first weld: a construction crew amazed by the advancing speed, the quality of the weld, and the easy to use equipment.
"It welds during work breaks, it welds during lunchtime, it's perfect!"
[Construction crew]
"We went a lot further in the improvement process by opting for the use of Hydrogen Argon to speed up the welding process, as we had discussed and tested during the training with Tanguy, AXXAIR's welding expert and excellent technical support for Michaël's site launch. By changing the type of gas, running a new program, carrying out a few tests and adjustments and a little more experience and hindsight, we managed to make much better progress on the site."
[Aurélien Barbier]
In a time frame that has been speeded up by the project architect, the equipment provides a certain comfort that allows the team to keep control of the planning, without having to cut back on the quality of the work or the quality of the installations.
"This week, with the collectors of our first building cell completed, Michaël switched to the SATF-115-NDHX to work on the 76.1 mm (3") and 114.3 mm (4,5") diameter antennas. According to his own observation, he believes that without this investment, he would not have been able to meet the requested deadline. He also points out that while a weld is in progress, open-head or closed-head, he now has the time to cut and prepare the following workpieces, as well as to monitor the operations."
As for orbital cutting, all tube operators agree that the CC172 and CC322 machines are a revolution for them, especially in a world where every millimeter matters.
"In addition to the precision, squareness, quality of cut and the elimination of a possible heat affected zone, not having to perform any major finishing touches is a real time-saver for us. On a diameter of 273.0 mm (10.7"), for example, we were able to reduce the time required for preparation (cutting, shaping and grinding) by the factor 4."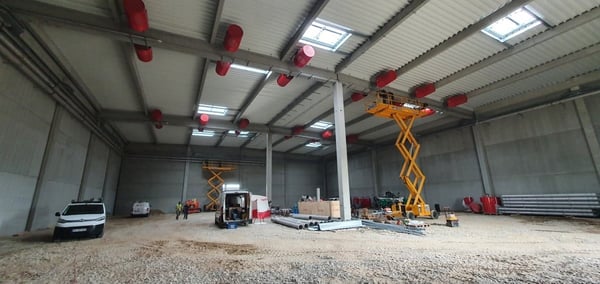 On the left and right walls: the 273.0 mm x 2.0 mm (10.7" x 0.08") arrays; in the center: the foaming devices connected to 168.3 mm x 2.0 mm (6.6" x 0.08") collectors and 76.1 mm x 2.0 mm (3" x 0.08") antennas.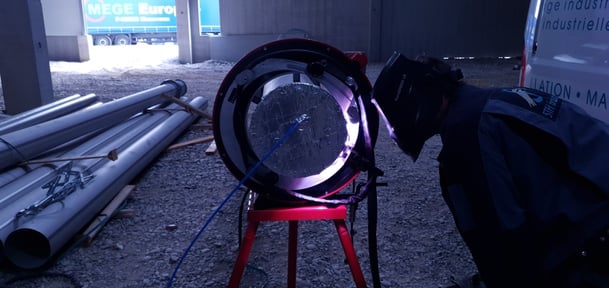 Assembly of a flange on a bar of 273.0 mm x 2.0 mm (10.7" x 0.08")
"To conclude, we are convinced that this investment will enable us to improve the safety of our special installations (hydrogen, fire extinguishing, etc.) and the safety of our customers, but will also help us be more reactive, more precise, more consistent, and to have an improved follow-up. Our customers are often asking us for increasingly complex installations, for more precise and varied processes, and – like they do with their own customers – we have to provide them with new alternatives to our products. We have no doubt that these alternatives will be the key to success, and that the technical and economic benefits will be significant."
We are delighted with this feedback and with the knowledge that our orbital machines effectively contribute to STH Industrie's productivity and efficiency.
"Michaël and I would like to thank the entire team at AXXAIR for their warm welcome during our training session, for the demonstration of their products, for the after-sales service and for their professionalism."
We would like to thank Aurélien Barbier for this very valuable feedback and wish the whole team at STH Industrie all the best with their AXXAIR machines!
You wish to discover our range of machines?
Please don't hesitate to get in touch with us.