When it comes to automated TIG welding, the power source is the heart of the system. The power source contains all the intelligence of the orbital TIG welding and transmits the energy to the workpiece by means of the electrode.
This technology is widely used throughout a large number of industrial fields discover more about this technology here.
The electrical power: an important criteria for choosing your TIG power source
Before choosing an orbital power source it is important to know the applications it will be used in.
For example, welding two stainless steel tubes with a wall thickness of 3 mm by simple butt welding does not require the same current, when compared to the welding of a tube with a bevel, which needs the use of filler wire.
You will have to choose an appropriate power source suitable to the project.
Welding with filler wire
Defining the criteria for your needs depends on the answers to the following questions: will I need to weld with or without filler wire? When to use filler wire? You would use this case when you have to fill a bevel – you not only melt the metal of the workpiece but also the filler wire, which is positioned in contact with the weld pool.
The heat not only spreads in the air but also in the workpiece. The bigger the mass of the workpiece, the more important it is that the heat spreads into the workpiece and causing a bigger need for more energy, thus additional power.
Dependent on the application you will either choose a low capacity power source with 160 to 200 amperes or a more powerful power source.
Why do you define the power of a power source in amperes?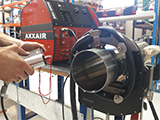 The amount of amperes defines the maximum current that can be transmitted through the electrode.
The maximum power combined with the arc voltage defines the power – and so the energy – that the power source will transmit to the workpiece. Generally, this is called the maximum welding current ,we prefer the definition of the amount of amperes, which is different compared to the nominal power of the power source.
Which ranges of power sources can AXXAIR provide?
According to your application use, our power sources will perfectly comply with your demands. Whether you need a small air-cooled model with 200 amperes or a three-phased 300 amperes water-cooled power source can provide the right solution. Our team is happy to assist you in defining the needed power, by considering these important aspects:
the duty cycle
the number of axes you will need
environmental conditions
electrical network
the standards to be considered.
We know that it's not always easy to choose the right equipment. Download our catalogues to learn more about our solutions.