Axxair has been designing, manufacturing and distributing its orbital tube processing machines since 1997. Our business encompasses the entire tube working process, so we offer cutting, bevelling, squaring, and orbital welding machines. Quality, Performance and Innovation are the fundamental principles of AXXAIR. For 20 years, we have been assisting our customers with innovative solutions that improve the productivity and quality of tube work in a range of materials, both in France and for export via our network of subsidiaries and distributors.
20 years experience in orbital machines !
With this wealth of experience under our belt, and on the occasion of our 20th anniversary, we will be exhibiting at the Schweissen und Schneiden trade show in Germany from 25th to 29th September 2017. We will be taking advantage of our presence in Düsseldorf to introduce our latest innovations and meet our international customers.
In particular, we plan to present our new SAXX range of welding generators and our reinforced cutting and bevelling machines.
Our new range of AXXAIR welding generators has been designed to facilitate the use and programming of your equipment. Intuitively, you will have access to sophisticated functions allowing you to carry out even the most demanding welds with ease.
This flexibility of use will be a genuine asset for your future projects, helping to boost your competitiveness during the course of your work.
Live demo of new orbital machines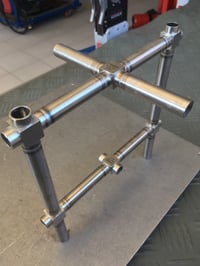 In order for you to take part in the "orbital experience", we will be setting up a welding area on our stand. Our technicians will be delighted to show you our orbital welding machines in person! Come and discover our wide range of solutions and test the equipment yourself.
We have also decided to beef up some of our range of cutting, chamfering, and orbital prefabrication welding machines.
Robustness, improved seating, more "positive" clamping and continuity guided the choices of our developers and pilot customers.
The support plate has been redesigned, providing greater stability to the whole assembly.
Last but not least:
Be the first to take an exclusive look at our new Microfit welding head! This closed head with interchangeable cassettes is used to weld different configurations (tube/tube, tube/fitting, fitting/fitting, etc.), and several types of accessories will be available!
The cassettes cover a range of outside diameters from 3 to 17.3 mm. The head is controlled by a SAXX welding generator from the AXXAIR range.
If you can speak and understand french, do not hesitate to subscribe to see our new microfit welding head in action ! Tuesday 5th december at 1:30 am CET
(This video demonstration will be translate into english later)