SAXX, the orbital welding power supplies from AXXAIR.
When you go and buy a car or get a new insurance, you can opt for the basic solution and add on extras to suit your requirements. Same goes for AXXAIR's orbital power supplies SAXX-200, SAXX-210 and SAXX-300. To demonstrate how exactly you can tailor the orbital welding power supply to your needs, we will use the SAXX-200 as an example.
The SAXX
Our range of AXXAIR orbital welding power sources has been designed to facilitate using and programming your equipment. You have access to refine but yet intuitive functions allowing you to easily carry out the most demanding welds.
#Touchscreen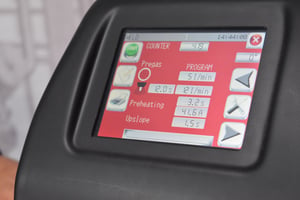 The SAXX is equipped with a touchscreen interface that is focused on easy handling – after all our equipment is there to serve your productivity! Our orbital welding power supply SAXX is available in 14 different languages and is designed with illustrative icons to help guide the operator through the configuration and later the welding process.
#Registering your programs
With our system you can save the welding program you configurated (by setting the tube diameter, wall thickness and head model) by number and easily find it again when you need it for future welding applications. Each program can include up to 10 different configurations.
#Worldwide flexibility
We paid special attention to the chosen technologies. Wherever possible, we opted for standard industrial components in order to facilitate possible maintenance and access to spare parts. This will prove to be a real asset for your future projects and will allow you to thrive in your respective field.
#Operating weld heads of different suppliers
One of the substantial components of our welding power supplies is the axis board which controls and operates the weld heads. It was primarily designed to be able to operate different motor types such as DC motors, brushless motors, stepper motors as well as encoders and tachometers. What is extraordinary and innovative about this is that it allows you to operate weld heads of different suppliers. That means you can continue using the welding equipment you already have and power it with our SAXX power supply. All relevant information for operating different configurations and weld heads can be transmitted to the power supply via a 32-pin "quickfit" connector.
In conclusion we can distinguish between 2 major advantages of the SAXX:
Flexibility/ Productivity/ Ergonomics/ Simplicity/ Intuitiveness

Latest generation power supply for orbital welding machines, more intuitive handling, data acquisition of real parameters including gas flow rates
What is included in the basic configuration of the SAXX?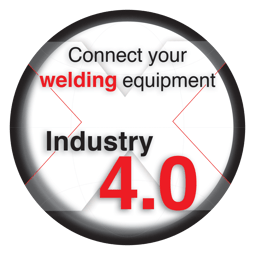 Acquisition and documentation of data every second: saves the last 999 welds which can

then be expo

rted from the USB-Stick manually or retrieved from the SAXX thanks to a remote access with an

Ethernet network cable.
All SAXX welding power sources are equipped as standard with an Ethernet socket.
Weldreport: data formatting and presentation of parameters in WPS-format

Automatic parameter calculation mode based on tube diameter, wall thickness, pipe material and machine used: between 1 and 20 welding sectors

Ergonomic shape of the power supply and convenient handle for easy transport

Compatible with weld heads of other suppliers such as AMI, Polysoude, Orbitalum …

Integrated printer for printing programmed and real parameters

USB key with the software and for installing up to 200 programs (multiple USB keys can be used). Easy way of updating the software without sending the SAXX back to AXXAIR.

All the necessary connections for the proposed options: the manual torch, the PPM reader, the wire feeder, the Switchbox, ...
Add-ons for the SAXX
Digital control of TWO different gas lines (for purging and welding) at programmable levels; the actual levels are recorded and saved every second. One gas line is included in the basic configuration.

Water cooling (for the SAXX-200): detachable water cooler without tools, easily transportable. 700W cooling capacity with flow meter alarm level. The air cooling is included in the basic configuration of the SAXX-200, the water cooling is included for the SAXX-210 and 300.

Metal supply, cold wire, option "step" mode, synchronization of advance and wire with the currant. The AVC/OSC module can be used with the SAXX-210 and 300 for thick tubes and pipes applications.

Wi-Fi: possibility of telecommanding the SAXX via smartphone, computer or tablet. An «Remote HMI» application is essential for using this option and the remote control of the power source. The Wi-Fi option also allows sending and retrieving data from the SAXX thanks to a remote access to the power source's USB key (just as the

Ethernet network cable that we already mentioned.)
Access to the USB key's content allows:
- to monitor alarms,
- to retrieve data from the acquisition files, progressively or every evening for example
- to exchange configuration and programs from one power source to another power source from the SAXX range.
Options for the SAXX that can be ordered with the powers supply or at any moment
PPM reader to insure the right coloration level of the tube. It sends an electric impulse to automatically start the weld when the desired oxygen level is obtained.

Manual torch that can be used for tacking or small TIG welding applications.

Trolleys for the power sources to easily transport them with a gas cylinder when working on site.

The new

welding Switchbox

to use two welding heads with a single orbital power source.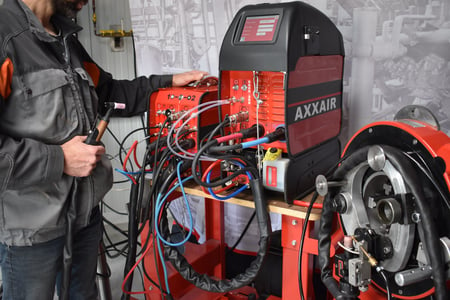 We offer these configurations for our welding machine power supplies SAXX to offer our customers the solution best suited for their requirements and applications.
You can purchase the SAXX either with or without supplementary configurations. Please don't hesitate to get in touch with us and tell us about your requirements and needs so that we can figure out together, what works best for your company!
Also, feel free to download our catalog with all the information about our SAXX and its accessories!