You have repeatable welds to perform and you want to optimize the cycle time of your welding operations to be more efficient and increase productivity?
The new AXXAIR Switchbox might be the ideal response to your company's needs !
Our Switchbox is the latest introduction to the orbital TIG welding product line. The accessory is compatible with all SAXX orbital power sources and allows it to connect two welding heads to a single power source and to use the two heads alternatively.

Through this article, we tell you everything about this accessory and its many advantages for your production!
AXXAIR Switchbox :
Significant time saving and cost reduction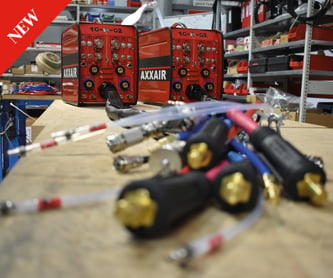 The new Switchbox avoids the simultaneous purchase of two orbital TIG welding power sources : it saves costs and a lot of time.
Indeed, being able to connect two machines / welding heads to a single orbital power source makes it possible to place the tubes and / or accessories in one of the two machines while the other one is already welding. The preparation and setting up time of the parts is thus optimized.
Once the welding cycle of the first head is finished, the welding of the second machine previously prepared can be started directly. The welded parts can be removed from the first head and new tubes and parts can be placed in the machine.
Ease of use
Using the Switchbox is easy, intuitive and efficient thanks to the SAXX interface. The powers source's touch screen and intelligent programming system facilitate the use of the welding equipment.
A switch button indicates if switching is possible. Switching is done either by the green LED button or by the start button of the inactive welding head. To guide the user, two other led lights indicate which of the two heads is selected.

Compatibility and flexibility
The Switchbox can be used with all welding machines and heads that are compatible with the SAXX power sources*. This means that you can use 2 identical or different heads with 2 identical or different programs.
This orbital welding accessory also allows the use of an AXXAIR manual torch to flash point on one side and weld on the other. Last but not least, you can use our PPM reader to get the best welding result.
Depending on the options chosen in the SAXX power source, you can take advantage of the management of 2 gas lines (there is a gas flow adjustment wheel for each machine, connected to the Switchbox) and up to two wire dispensers.
* excluding AVC/OSC systems
Optimization, time saving and ease of use:
the AXXAIR Switchbox will quickly become an essential accessory for your welding production!
You have a project and wonder if the orbital solutions could be the right answer to your company's needs?

Do not hesitate to contact us, we can study your project in order to offer you solutions tailored to your needs.