As every year, AXXAIR will participate at the trade show FABTECH 2019 which is set this year for November 11-14 at McCormick Place, Chicago, IL.
FABTECH is North America's largest metal forming, fabricating, welding and finishing event. The exhibition is a place where you can discover the latest innovative technologies and meet international word-class suppliers.
FABTECH highligts emerging industry trends to industry professionals with an access to the information, technology and equipment they need to transform their business. Today's manufacturing industry is transforming quickly and innovation and new technologies are launched.
So let's take a look at this exhibition where connections are made and deals get done!
A look back at the 2018 FABTECH edition in Atlanta
The 2018 edition welcomed over 1,500 exhibiting companies and 33,755 attendees from more than 75 countries to Atlanta's Georgia World Congress Center.
According to John Catalano, SME senior director, FABTECH 2018 was a successful exhibition :
« There was a palpable energy radiating in and around the show floor and the education sessions. The week was full of excitement and enthusiasm and the introduction of leading-edge technology showed manufacturers there is a lot to be optimistic about in the year ahead. We were thrilled with the high turnout in Atlanta and hope that everyone that participated in FABTECH 2018 left feeling inspired by the ideas, insights and new connections made at the show."
The American AXXAIR team was present and enjoyed the opportunity to meet metal industry's actors like the c-level executives, owners, manufacturing engineers, purchasers, plant managers, researchers and developers and other decision makers with purchasing power.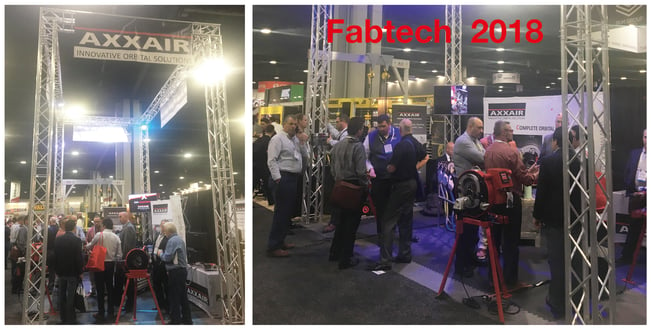 Network with peers, learn best practices from industry experts and
explore the latest technology and advancements in the industry
This new edition in 2019 expects more than 48,000 attendees and at least 1,700 exhibiting compagnies to celebrate metal manufacturing at its best.
The industry professionals search for new technology and products to make their businesses more productive and profitable. No other event offers a better face-to-face opportunity to showcase the manufacturers' equipments and services to decision makers from around the world.
The exhibition also provides educational sessions and expert-led presentations covering the latest trends and technologies in the metal forming, fabricating, welding and finishing industries. Many subjects like the workforce development, women in the industry and veterans filling critical industry roles will be presented and discussed.
Over 170 education sessions will offer attendees a wide range of topics that will certainly push the industry transformation forward. Differences in the manufacturing processes can be reviewed by the suppliers and be a step ahead the competition.
Speakers will certainly inspire by sharing their expertise and by giving advices and speak about the best practices. They will also identify disruptive technologies and bring critical thinking forward.
Find the AXXAIR team at FABTECH 2019: booth B25113, Hall B2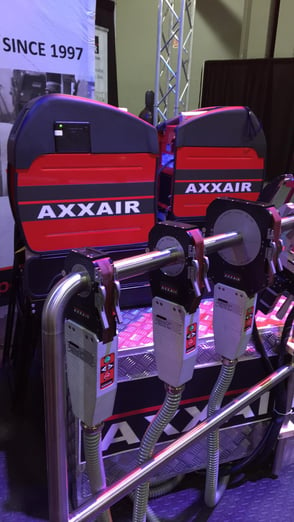 We are delighted to participate at this new edition of FABTECH next to all the other actors of the tube industry.
As it want our slogan "innovative orbital solutions", we always make it a priority to be part of this innovative event and discuss the latest developments and applications for cutting, squaring, beveling and welding processing solutions in the tube and pipe industry.
Do not hesitate to join us in Hall B2 (Welding), booth B25113 - a great opportunity to meet the AXXAIR team and discuss about your projects and difficulties. You will also have the opportunity to see our orbital technology and test the machines during the live demonstrations.
AXXAIR offers a standard product range in our catalogues but also specific solutions according to customers' specifications for all our target markets: food-processing, pharmaceutical and semi-conductor industries, aeronautics, chemical and petrochemical industries, nuclear industry, etc.
And what's new?
You will discover the new features of our orbital beveling machines - new motor, reading on a vernier, high-strength carbide inserts – and our new electric clamping system to increase your production efficiency. Find all of these innovations and our orbital cutting, facing, beveling and welding machines on our booth.
You have a project and need some advice for your tube preparation and welding ?
Come and discuss with our experts, we will find the perfect solutions to your needs.

Highlights:
48,000 attendees and over 1,700 exhibiting companies

Keynotes delivered by industry experts

Educational sessions on and beyond the show floor

Multiple networking opportunities



Venue information:
McCormick Place. 2301 Martin Luther Kind Drive. Chicago, IL 60616. United States of America



Show hours:
Monday, Nov. 11 : 10 AM - 6 PM

Tuesday and Wednesday , Nov. 12 & 13 : 9 AM - 5 PM

Thursday, Nov. 14 : 9 AM - 3 PM
Find us easily on the map by clicking here: EVENT MAP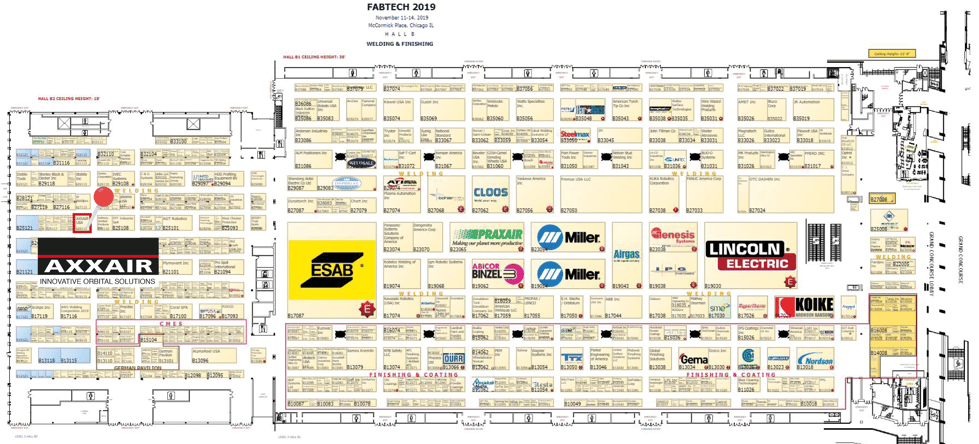 Come join us in Hall B2, booth B25113!